After the visible successes of recent years, we continued our tree planting cooperation with ISCOT in the Madi Opei region in northern Uganda in spring 2023. After more than 100,000 seedlings have been distributed to village communities, farmers and schools in the region in recent years, this year we have  distributed another 15,000 small trees to motivated farmers and farming communities. Our MttW-members Ronny and Florian were there in April and May, helping to distribute the seedlings and supplying local sports teams (soccer and basketball) with new jerseys and balls. You can find our preliminary report and appeal for donations here .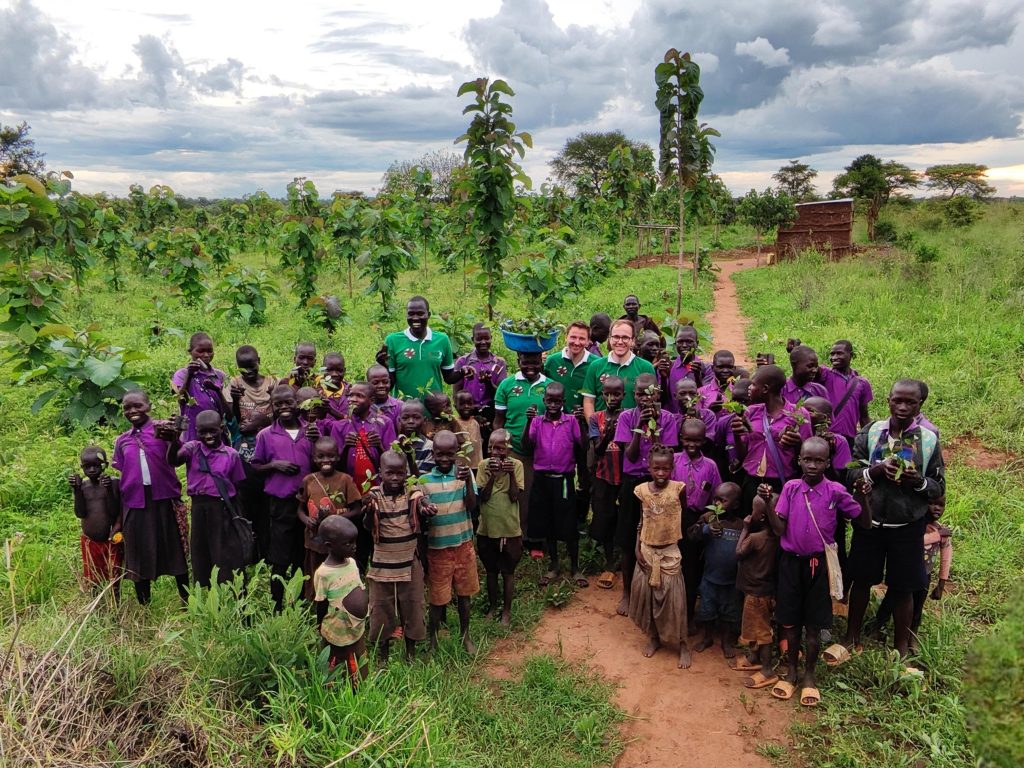 Summary of Magic to Uganda in 2023:
another  15,000 seedlings distributed to farmers and village communities
Planting period: April-May 2023
Total investment by MttW: €7,529.77 (€0.50/seedling) for seedlings
Collaboration with ISCOT & local management by Jimmy, Joel and Village Champions
MttW team consisting of Ronny and Florian on site in April & May
Further rearing of the seedlings by the village communities, sensitization and training by ISCOT and volunteers as well as the MttW team
A new song by Jimmy Jimson feat. Flo&Ronny about our cooperation (no costs)
Charitable expenses for:
– Seedling cultivation (nursery), truck hire & transportation, local labor & food, transaction fees (€7,529.77) 
– Jerseys and balls for local football teams in Madi Opei and two basketballs for Kitgum youth team (€775, 00€)
As in previous years, the seedlings were loaded into Joel's nursery, onto the big truck or into the trunk of Jimmy's Land Rover, and taken directly to the farmers and their fields. In order to obtain seedlings from our project, it was also a requirement for the farmers this year to completely prepare the fields on which the seedlings are to be planted, ie to remove weeds, to plow and to dig a hole every 3m. We found excellent preparation at almost all of the locations we visited, suggesting that the farmers are very motivated to accept our offer of free seedlings for reforestation.
In order to work more closely with the community in the Lambo District and to increase awareness of our project and the cooperation with ISCOT in the region, we have also decided, similar to our first visit in 2018, to provide local football teams with new jerseys . Sports in general and the football teams from each village in general are a welcome change from the tough everyday life of farming families. Through our sponsoring we can get a little more visibility and supportgenerate for our project and provide great support to the teams, since the poorest players cannot afford team shirts. Florian and Ronny used the opportunity of the league game Padibe United against Paloga Select, after a short speech, to appear in the main draw of the league in Madi Opei.
Many thanks to all supporters – you are magic!
A special thanks to our local partners Jimmy and Joel, without whose partly voluntary work such a project would not be possible. Thanks also to the MttW team, Ronny and Florian, for their commitment and time to support this project! Our volunteers bear all costs arising from the trip themselves, so that 100% of the donations go to the project .
We would like to continue our commitment in Madi Opei, Padibe and the entire Lambo district! We are already represented as an active tree planting organization in Uganda on the restor.eco website of ETH Zurich, the largest collection of reforestation projects. Nevertheless , we still need your support to be able to distribute as many seedlings as possible to motivated farmers next year.
How you can support our tree planting project in Uganda:
By transfer to our donation account (Skatbank, no fees):
| | |
| --- | --- |
| Empfänger: | Magic to the World e.V. |
| IBAN: | DE97 8306 5408 0005 3187 50 |
| BIC: | GENODEF1SLR |
Make our  project  known in your company, sports club or circle of friends   and thus acquire any major donors. Feel free to contact  magictotheworld@gmail.com
You are welcome to receive a donation receipt/donation receipt for all donations afterwards or at the end of the year, which you can claim for tax purposes in accordance with Section 50 (1) EStDV!
Thank you!