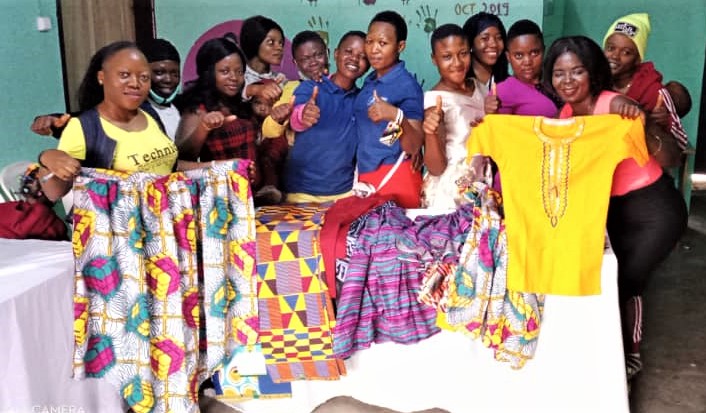 Since our project Magic to Cameroon in 2019 , where we were on site with an MttW team in Bamenda, Cameroon, we have continued to support the work of the Sustainable Women Organization – SWO under the direction of Tebi Honourine.
In September 2020, 13 young women started an apprenticeship organized by SWO and financed by MttW in various local companies . The young women are mainly single mothers who had to flee from their villages to the city of Bamenda due to the civil conflict in north-western Cameroon and now have to make ends meet for themselves and their children without help. Since there is only very limited state support and no state-supported training program in this part of Cameroon, many young women seek protection from organizations such as SWO.
At our MttW general meeting in October 2020 , we therefore decided to finance a 3-year training program ( training contract with SWO ) through SWO and under Tebis' leadership . The first group of trainees (apprentices) started in September and was divided into 7 hairdressers, 4 fashion designers and 2 computer and graphics technicians. Due to difficulties in the training company, the 2 graphic designers also switched to training in fashion design at the beginning of 2021.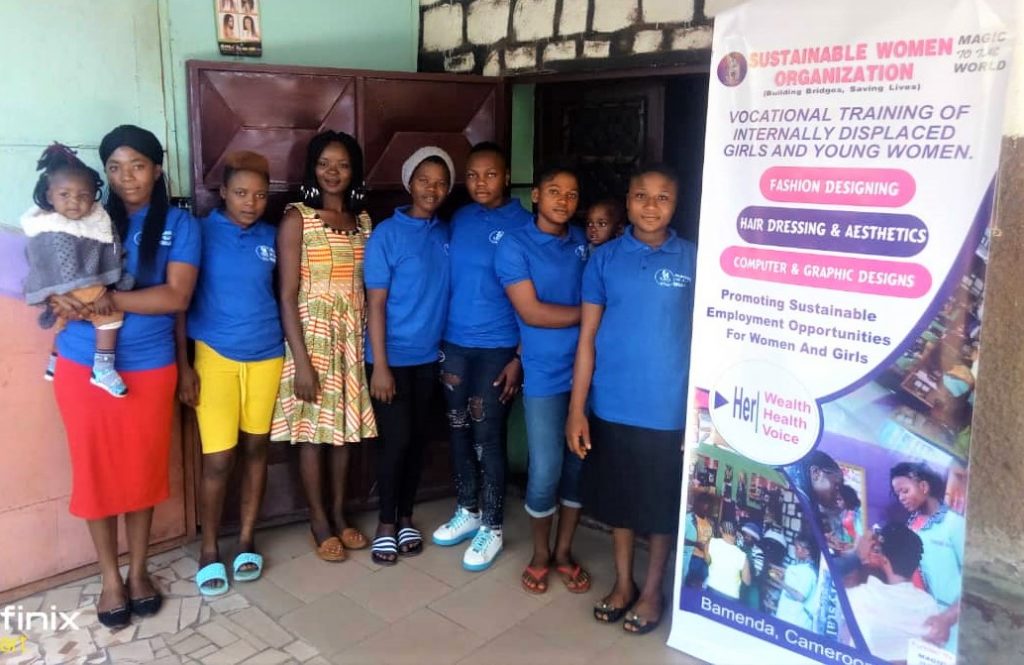 Through the training, the young women are guided towards a life of independence. In addition to the experience in the training companies , the apprentices receive further training in topics at regular meetings and workshops in the SWO office that support them in being able to do business and live independently and without help after completing their training.
Due to the impressive progress in personal development and knowledge in the respective training area after just under a year – here is a report from the trainees , summarized in a workshop in May – we decided together with Tebi to support the young women in finding a paid job or to find self-employment. This means that a new group of girls can begin training as early as autumn. The women who have already been trained will act as mentors and pass on their experiences in the SWO Community Center.
---
Financial support from Magic to the World – appeal for donations
In order to make our training program accessible to as many young women in need as possible this year, we need your support. The 1-year training in the training centers and the workshops in the SWO Community Center only cost around € 100 . With as little as € 290 we can provide the trained women with material and machines with which they can dare to set out on their own. Our donation connection:
By  transfer to our donation account  (VR Skatbank, no fees):
| | |
| --- | --- |
| Recipient: | Magic to the World e.V. |
| IBAN: | DE97 8306 5408 0005 3187 50 |
| BIC: | GENODEF1SLR |
Many thanks for your support!
---
Impressions from the 1st year of training
Since pictures are known to have more magic than words, we have collected the most beautiful pictures and videos from the first year of training here. From the field of fashion design:
From the area of ​​hair dressing / hairdressers:
Three testimonials from young women who are in the training program:
The SWO Community Center , where the talks, workshops and group meetings take place. There is also a Sanitary Pad Bank , financed by MttW and others , where women in need can pick up 2 sanitary napkins per month free of charge so that they do not have to interrupt school, work or training during their period.