It was in January 2020 when Marcus told me there was a support on site planned for April as part of Magic to Uganda. Yes Awesome! After having explored the world mainly within Europe so far, this would be my first
experience in Africa and also my first personal support at MttW beyond financial contributions. So the flight tickets were booked quickly.
A month later, my wife and I found out that we were pregnant and another month later, the corona virus arrived in Europe. That was an abrupt end to our project and whether I would make it to an engagement with MttW or a visit to Africa in the next few years with a toddler at home seemed rather unlikely to me. Until January 2022, when Marcus told me on a walk that we wanted to make another attempt in the spring to be there in person to
distribute the seedlings this season and to see how well the trees already planted in the project had grown. I was not able to tell him that we are pregnant again in addition to our 1.5 year old daughter, as I had only just
found out myself. But my wife said I should go in any case, because with two children two weeks without dad will be difficult.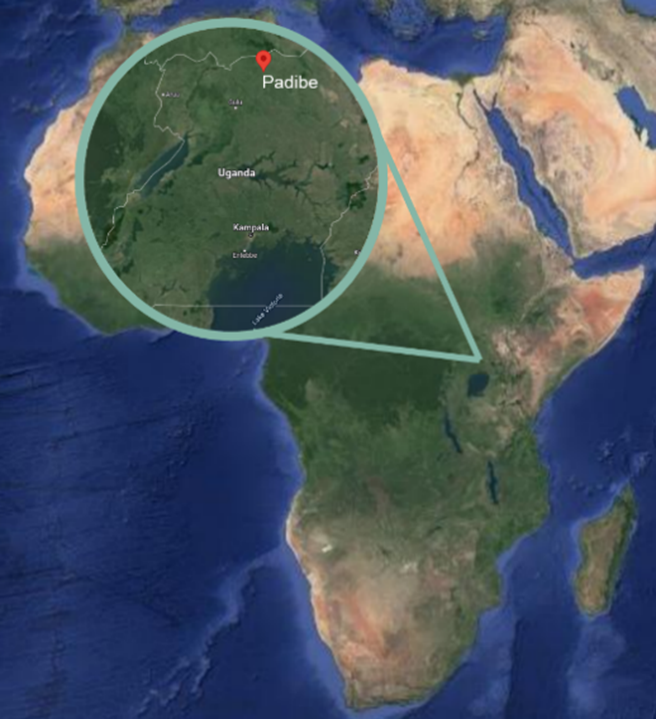 Und so kam es dann am 05.05.2022 dazu, dass ich an einem Donnerstagabend kurz vor halb elf am Flughafen von Entebbe das erste Mal auf afrikanischem Boden stand. Ähnlich wie bei Florian sollte dies auch mir jeden Tag aus dem Nichts ein Lächeln ins Gesicht zaubern: "Alter, ich bin in Afrika!".
And so it came to this on 05.05.2022 that I stood on African soil for the first time on a Thursday evening shortly before half past ten at the airport of Entebbe. Similar to Florian, this should also put a smile on my
face out of nowhere every day: "Dude, I'm in Africa!
To warm up, there were three days in Kampala with Anna, Flo and Marcus.Traffic, climate, architecture and life on the streets – there were more impressions than I could process in the short time. And what was also
different, of course, was traveling without children. As much as I missed my family, it also shaped the trip that the day wasn't organized around the rhythms and painting times of a toddler.
After Kampala, we headed north. The drive was marked by heavy rain and the darkness that set in very quickly from 6:30 p.m. onwards, after which we should really have preferred to end the drive. After leaving the
outskirts of Kampala, along the main road towards Ghulu there were always small villages, sometimes towns, where the main source of income seemed to be the sale of goods to travelers. Small snacks, gasoline, water,
mangos or charcoal. One will never lack for that on this route. In addition, one had the impression that Monday afternoon is the main game day in the district league associations. When the work was done, all the villagers would walk down the street to the central village soccer field as if they were going to mass on Sunday morning. They were dressed up nicely, there were fire pits with food here and there, and rather incidentally the
teams were kicking, where you could tell that their fancy uniform jerseys sets were making them play with even broader chests.
The night fell very quickly and our car had a rather inadequate light system, but we arrived shortly before eleven accident-free in Kitgum and moved into our hotel. 5 minutes later I met with Marcus and Anna again on the terrace of the hotel, where we enjoyed our evening meal in the form of Rolex and beer. 0 o'clock Anna unpacked two more sparklers, because Marcus was now 31 ??
It was Tuesday morning and for the next three days work in the fields was planned. I was motivated and sat with clothes in which one could also tackle at breakfast in the hotel. The city definitely sounds different from
Kampalla. The houses are rarely higher than one story. But one thing remains the same: African time! Jimmy would not pick us up at the hotel at 9:30 a.m., but we could do some errands and meet later at the market.
After stocking up on water, snacks, Uganda Waragi and stoney, we met Jimmy at 10:45 for breakfast at the market. There was Rolex with tea again. I couldn't get out of my German skin, of course, wanting to find
back into the schedule so that we could still get our day's work done, since at this point I still assumed that we would actually be helping out somewhere that day. Later I learned that this had been postponed to the
next days and that we would first distribute musical instruments and uniforms for local dance groups in the Padibe region. This relaxed me a bit, even though it took me a few more days to get used to African Time.
In addition to the donations made specifically for trees, Magic to the World e.V. also always uses leftover funds to support the people in the regions with cultural donations. The first priority is always to determine what needs the people have and with what means they are best helped. This is done by Jimmy, who as already described by Flo is a central pillar of the project in Uganda. He knows the community, identifies its weakest members and discusses with them what will benefit them best in the long term.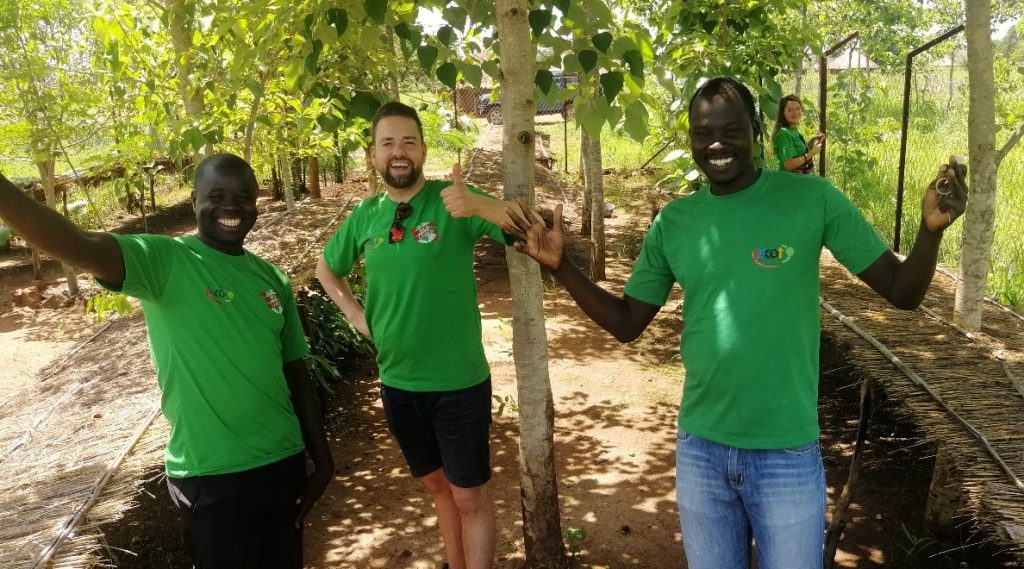 In May, we were able to distribute locally made uniforms and folk dance instruments to two remote villages. In addition, we visited a group of women who are widowed or single and have joined together to strengthen
each other as a community. At the end of this year, Anna, Julia and I were able to donate 2 oxen and a team to this group, which will enable them to cultivate the surrounding fields efficiently in the future, even without
"manpower".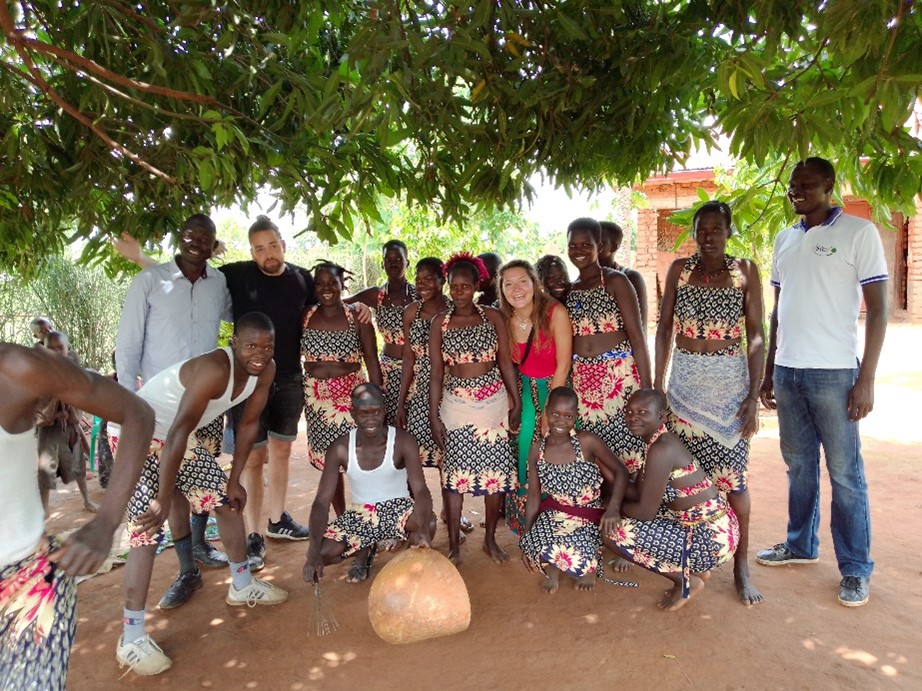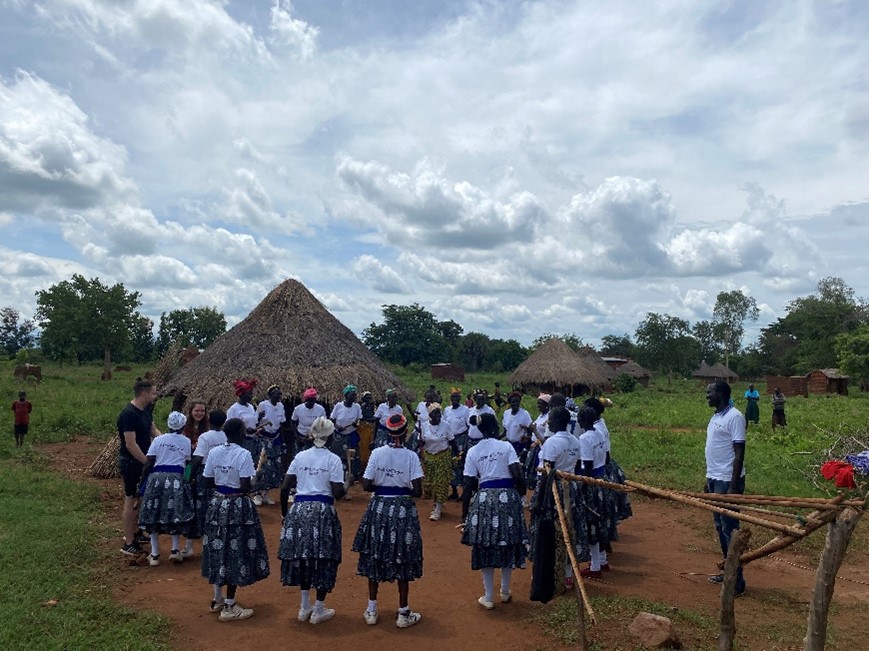 The next days it was actually so far and we drove with Jimmy, Joel and other members of Jimmy's organization ISCOT to the farmers and brought them seedlings. For this purpose, we first went to Kitgum again on Wednesday to load the seedlings in the tree nursery rented by Joel. It was interesting to see with which seemingly simple means he can grow so many new seedlings. Later we learned that it is only because of his years of experience that it works so well and that this was not always the case. In addition, he has to switch to a rented nursery, because his own plant north of Madi Opei first needs a new irrigation system to cover the volume of the project. Due to the ever-increasing drought, this can only manage smaller quantities of seedlings.
Afterwards the described baggage sat up in our Toyota Land Cruiser and Jimmy's Landrover Defender of the first generation and drove to the first gardens. At first I was irritated how many people I did not know so far
joined us for this distribution. But later I understood that these people are respectable people of the Padibe region and their presence creates an additional commitment to the project. It makes it a bit more official that a
certain number of trees were brought to the gardens in the presence of these people, which are now also to be taken care of carefully. Whether this additional pressure on the farmers is necessary, I don't know, but one
feels that the farmers were additionally concentrated with so many prominent visitors. It certainly didn't do any harm, because every additional tree that survives in the nursery helps the local microclimate and the farmers themselves when they later cultivate the spaces between the trees with peanuts, beans or sesame seeds.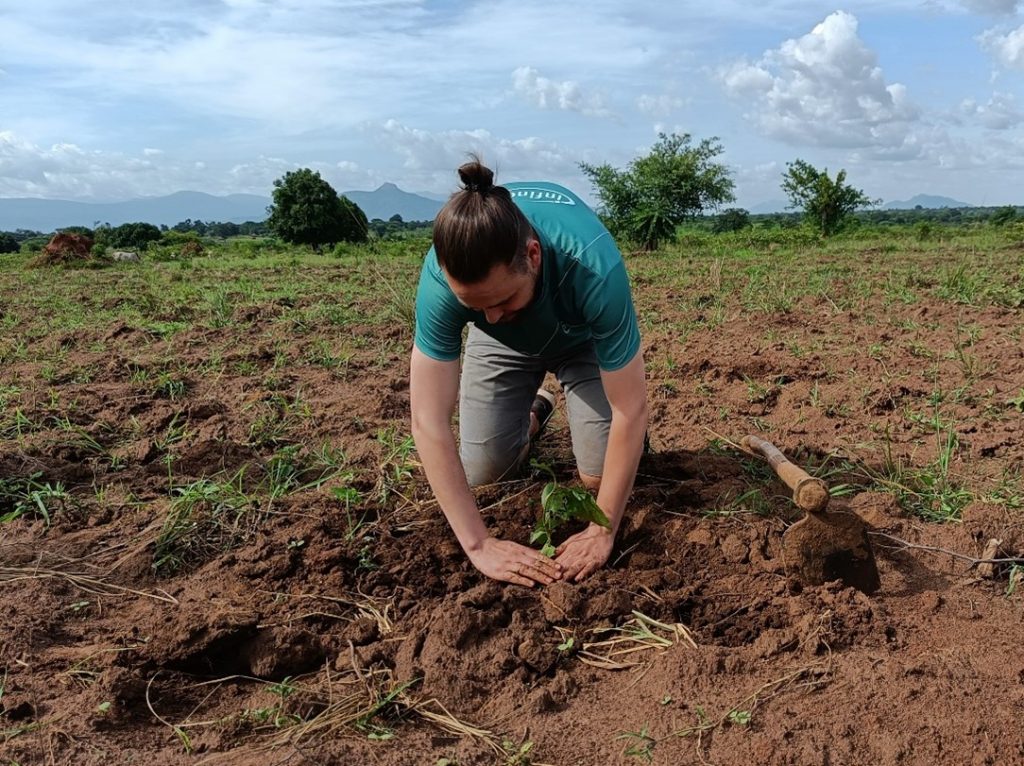 In addition to planting trees, shaking hands, flying drones, and walking the gardens with GPS devices to document the project work, I kept looking around and thinking, "Dude, I'm in Africa!" Whenever I was asked if I would come back next season and had to decline, I thought to myself that in 5 to 7 years I would definitely come here with Julia and the kids. I want to show you how different life is here, how much beauty and challenges surround the people here, with what trifles we sometimes deal in our privileged homeland, but above all I just want to let you enjoy this country.
Anna, Marcus and I enjoyed two more days in the Queen Elizabeth National Park. On the drive there, where you cross almost the entire country from north to south, you also notice regional differences. Life in the more prosperous central and southern regions, which are also more connected to industry and tourism, is hardly comparable to the conditions north of Gulu. Denser development, clearly more possibilities of agriculture – as the kilometer-long tea fields testify – numerous hotels and generally multi-story houses make the difference clear.
And then suddenly a mood of shock and happiness breaks out in the car. Although I had been assigned as a driver for many hours that day, but since I had relied on Marcus for navigation, there weren't many different
roads anyway, and the sun was hardly useful to me Europeans in the middle of the day for orientation, I was absolutely not prepared to suddenly pass a brown rectangular sign saying "Equator". Just like that, without having thought about it, I was in the southern hemisphere for the first time and was immediately super excited. Since that was also almost the start of Queen Elizabeth National Park, it couldn't have started any better.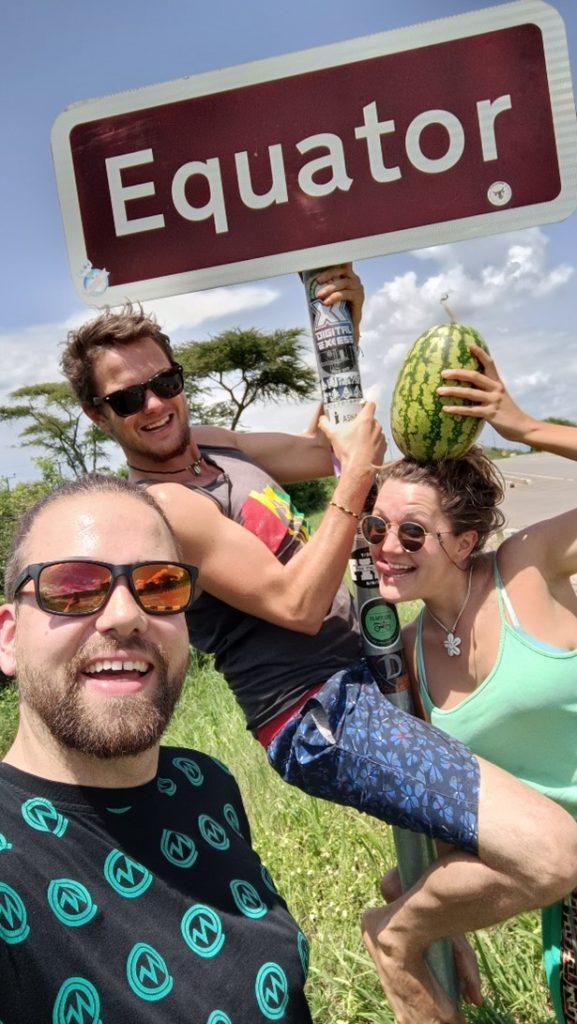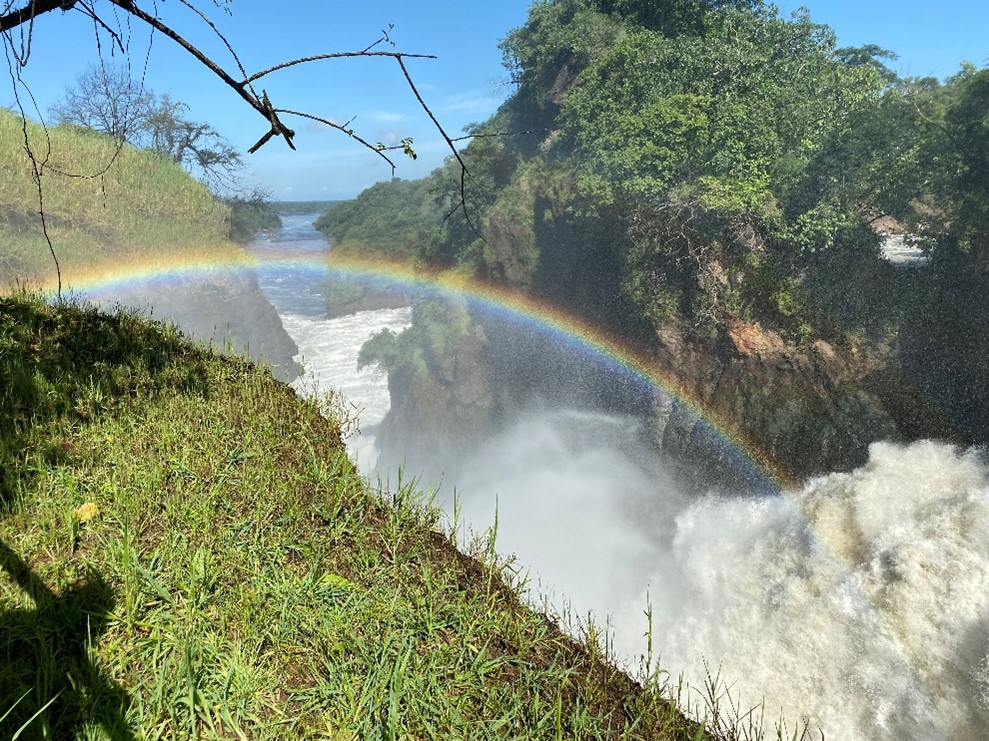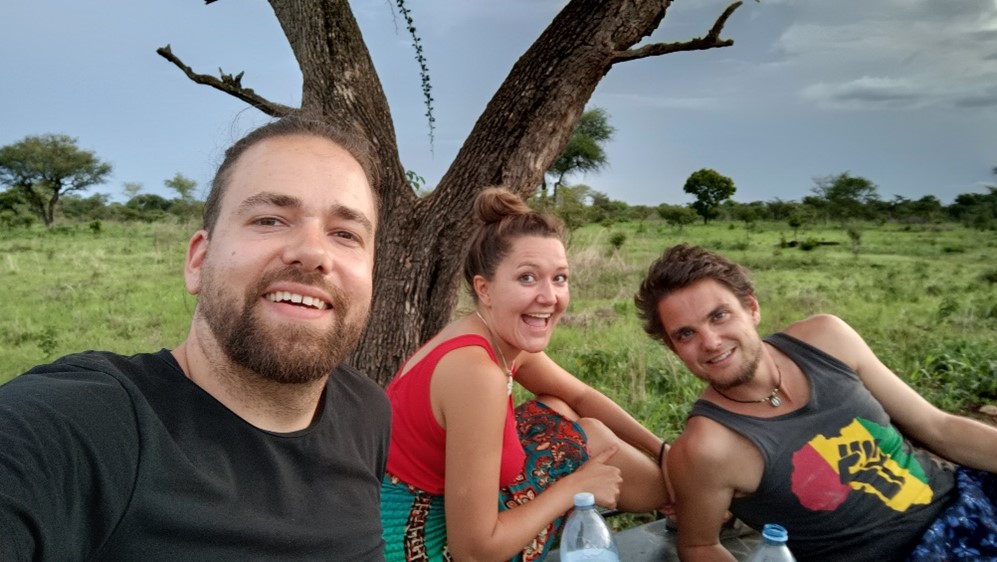 Each of us can contribute something to the welfare of humanity. Uganda is one of the countries with the youngest average age on earth and more than 80% of the people are engaged in agriculture. Stopping the ongoing desertification is not only in the interest of nature, but has a direct impact on the hearty local people. With our commitment, we can not only protect the microclimate and contribute to the fight against global warming, but also give the Acholi a gift: Hope for the future. Above all, I want to make this possible for the children and continue to hope that together we will continue and expand this project! I am very happy to be part of this circle of friends and also of this association. Let's continue together to try to make the world a little better.
Step by step.
Project by Project.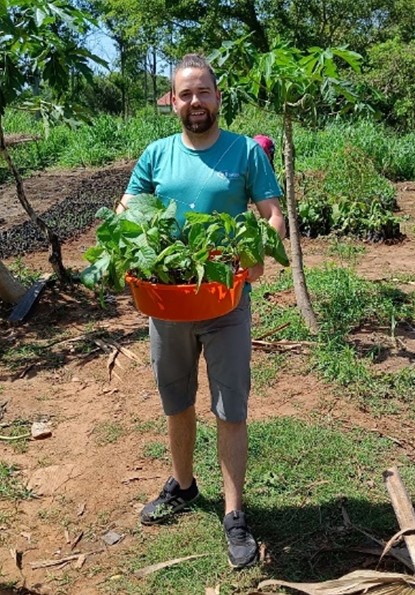 Your Magic Felix
So kannst du unser Baumpflanz-Projekt in Uganda unterstützen:
Per Überweisung auf unser Spendenkonto (VR Skatbank, keine Gebühren):
| | |
| --- | --- |
| Empfänger: | Magic to the World e.V. |
| IBAN: | DE97 8306 5408 0005 3187 50 |
| BIC: | GENODEF1SLR |
Für sämtliche Spenden könnt ihr gern anschließend oder zum Ende des Jahres eine Zuwendungsbestätigung/Spendenbescheinigung bekommen, die ihre gemäß §50 Abs. 1 EStDV steuerlich geltend machen könnt!
Vielen Dank!