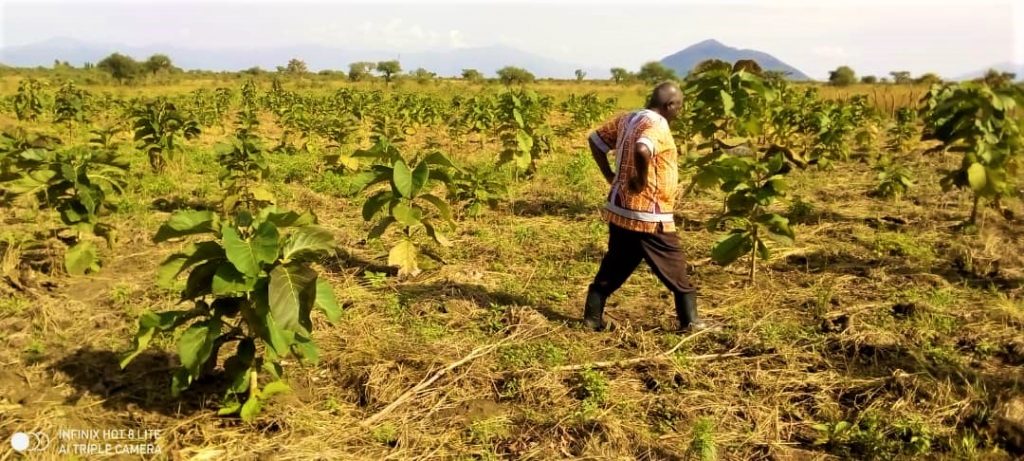 Our tree planting initiative with our regional partner ISCOT will continue this year in the north Ugandan region of Madi Opei. After being able to give out more than 80.000 seedlings to communities, farmers and schools of the region in the last two year, we are planning with our partners Jimmy and Joel for another 20.000 tree seedlings. These are currently raised in a tree nursery to be ready for distribution and plantation in April and May, the beginning of the long rain season. More information about the efforts of the last two years are available on the project page Magic to Uganda II ('20) – 41.400 Bäume für Madi Opei and Magic to Uganda II ('21) – mehr Bäume für Madi Opei.
After our first visit in the region in 2018 – Magic to Uganda – and the support of the rural communities there, we have asked Jimmy, what could be a sustainable approach for improving the living conditions there. His answer was very clear: 'Reforestation!'. The armed conflict in the region that went on until 2008 has led to an enviroment where most of the old trees were cut down to provide firewood in the camps. This effects the local micro climate in an enormous way. Already now there have been long lasting droughts and heavy floodings once it rains. With global warming, those effects will get stronger and worse and the soil will become more dry and less fertile, effecting the livelihood of the people, which are mostly farmers.
Through our partnership with Plant for the Planet and listing of our project on their page we could already reach a lot of people which supported our cause. A representative of the organisation visited the plantation sides in october, accompanied by Jimmy, as you can see in this video:
We currently plan to assist this years distribution by the end of april with a small MttW-team. This will give us the opportunity to collect more accurate ground and GPS data. Those are neccesary to keep your entries up to date on the global collection of reforstation projects on restor.eco and lead by the ETH Zurich. By doing so we can do our part in the UN Decade on Restoration.
Plase support – call for donations
To reimburse the nursery for raising the seedlings and cover expenses in course of the distribution, we need your financial support! We promise that all the money you trust us with goes towards the tree planting. We account for all our travel, transportation and food expenses ourselves, meaning that 100% of the money raised will be invested directly in the project.
Ways you can support our tree planting project in Uganda:
By bank transfer to our NGO account (Fidor Bank AG, no fees):
| | |
| --- | --- |
| Receipient: | Magic to the World e.V. |
| IBAN: | DE26 7002 2200 0020 4429 13 |
| BIC: | FDDODEMMXXX |
Via Paypal to Magic to the World e.V. (appr. 2% fees)
Volunteering: Do you have at least 2 weeks of free time between 24st of april and 15th of may and are you motivated to spend your free time planting trees? Join the Magic! Get in touch with Marcus via 004915143188926 or send us an email
Promote our project in your circle of friends of within your company! We are also looking for corporate sponsors who want to team up. Feel free to get in touch via magictotheworld@gmail.com
Your donations qualify for tax deduction of citizens of the European Union. Please let us know if you would like to receive a donation receipt.
Thanks a lot!